Create Search Criteria Template

Click Search for Sales in the Tools list in the main DataLog window.
The search screen opens so that search criteria can be selected. Multiple criteria can be added to refine the search by clicking the Add button.
Once all data have been entered, they can be saved as a search template.
Click Criteria Options and click Save Current Criteria As…

Name the search template:

To use the template for a future search, click Criteria Options and choose it from the options.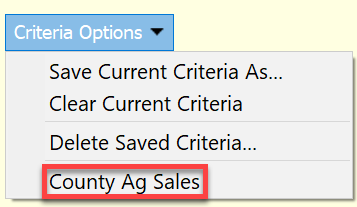 Note that saved criteria can be deleted, in effect, deleting the search template.
To clear criteria for an active search without deleting the template, use the Clear Current Criteria option.